F9: The Fast Saga
| Day | Time |
| --- | --- |
| Friday 7/23 | 7 PM |
| Saturday 7/24 | 7 PM |
| Sunday 7/25 | 3 PM |
| Tuesday 7/27 | 1 and 7 PM |
| Wednesday 7/28 | 7 PM |
| Thursday 7/29 | 1 and 7 PM |
Rated PG-13; Action, Adventure, Crime; Run Time: 2 h, 23 m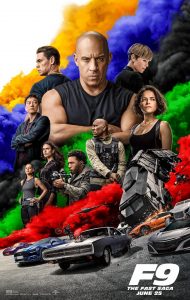 Cipher enlists the help of Jakob, Dom's younger brother, to take revenge on Dom and his team.
Cast: Vin Diesel, Michelle Rodriguez, Jordana Brewster
Genres: Action, Adventure, Crime
Run Time: 2 hours and 23 minutes
Rated PG-13: This film is rated Rated PG-13 for sequences of violence and action and language.
COVID-19 Policy: There are currently no COVID policies for patrons at the Blair. Please be safe and stay healthy.